You have been dreaming about flying a personal jetpack for way too long. Your wait is finally over!
Jetlev Sports Inc. is proud to introduce the JETLEV-FLYER, the recreational jetpack almost anyone can enjoy over water. It is designed for safety, stability, ease-of-use, and precise and effortless flight controls. Learn to take off, fly, turn, hover and land in as little as six minutes.
No other flying device even comes close to the JETLEV-FLYER's stability, agility and ease of use. Feel as one with the jetpack when you fly, and experience levitation flight so stable that everyone—including you—would think that you are suspended on cables. The three-dimensional degree of freedom will thrill and enthrall you like nothing else you have ever experienced, yet you can fly over deep water with the assurance that it is one of the safest powersports ever invented. The JETLEV-FLYER will change every pre-conceived notion about personal flight!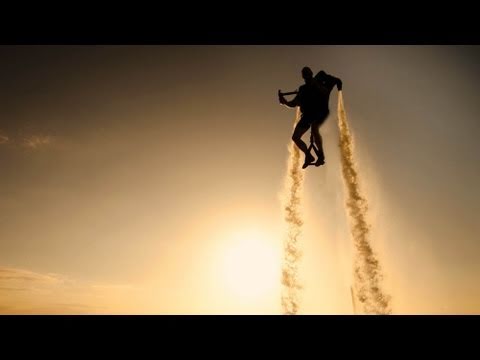 The smoothness, stability, control, performance and ease-of-use surpassed even our wildest expectations. Once you try Jetlev flight, we think you will appreciate why we are so excited over the results. Key features of the pre-production prototype:
Jetpack dry weight (approx.): 30 lbs (14 kg)
Maximum Thrust: 430 lbf (1,900 N)
Thrust-to-weight (150-lb / 68 kg pilot, at takeoff): 2.3 : 1
Measured top speed (150-lb or 68 kg pilot):  22 mph (35 km/h)
Hose length: 33 ft (10 m)
Flight ceiling (measured at feet level): 28 feet (8.5 m)
Duration at wide open throttle (approx.)  1 hour
Duration at cruising speed (approx.)   1.5-2 hours
Only one model with a 250 HP engine will be available initially. This model is currently undergoing trial production to test all the designs, fit and finish, anti-corrosion coatings, assembly fixtures and procedures, functionality, serviceability and durability. All metals used will be made of either stainless steel or hard coat anodized aluminum with Teflon coating to protect it against corrosion and abrasion. Hard coat anodizing has the equivalent  hardness of sapphires, the second hardest natural material known to man behind diamonds. Every part of the Jetlev is painstakingly made with great precision. All water seals are made with the same high grade O-ring systems that one would find only in deep sea systems. Critical cables are protected by military style braided stainless steel sleeves, and electronic control modules and cable terminations are encapsulated in tough polyurethane plastics to keep moisture out. No expense is spared to make the Jetlev system as reliable and low maintenance as possible.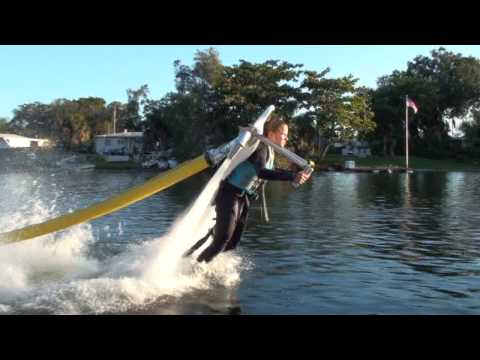 Photo Source: Visit the JetLev.com website for more information.